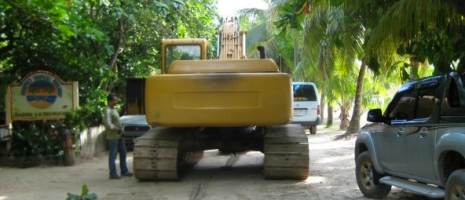 Well, the big guns rolled down West End Road today -- how that back hoe got through that tiny road with cars parked on both sides, I'll never know -- I can barely squeeze my Nissan pickup through there without taking a piece out of a fence, rental car, or tourist's toes. Trucks filled with big pipes accompanied the great beast of a machine as local residents gazed hopefully that this may be the end of the flooding out of the road after heavy rains. The back hoe did not waste much time getting to work, and the first pipes were laid.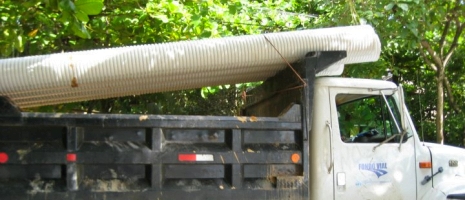 Local residents seemed to be pondering how long this is going to take, and why, oh, why did the municipality wait until rainy season to work on this project. I guess it is as good a time as any just to see if the engineers got it right. With the road as narrow as it already is, folks seem justifiably concerned that their already washed away road may be impassable while the remedy is being applied. But if that heffer of a back hoe can get all the way down to Georphi's, then I suppose anything is possible.
More on this as it develops...