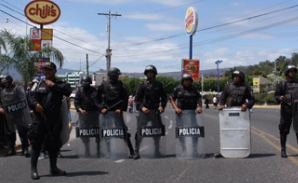 Roatan businesses have been inundated lately by the on site audits of Honduran tax authorities. Their current visit is scheduled for three weeks. Numerous businesses have been closed down until they have complied with the tax regulations. Some of the codes being enforced include the requirement of having sequentially numbered receipts with the business tax number (called the RTN). Cash registers and computers that print receipts must have permits, costing 3000 Lempiras per machine. Many business owners were surprised to find their accountants at their door dropping off all the books and receipts in anticipation of the Fiscal's arrival. Many accountants were visibly shaken by this massive audit.
A typical 'visit' starts with one or two unidentified tax people entering a business and purchasing something. If they are not given a proper receipt with RTN number and invoice number, they will reveal themselves. Travelling in small pickup trucks loaded with 10 people, the Fiscal will park away from their intended destination, and walk to the business -- usually just a couple in front, then followed by the rest. Business owners are faced with at least half a dozen tax people in the middle of their business day. Normally, their accountants are called in to answer any questions, and many accountants are exhausted from travelling from place to place to again justify their clients books.
Business owners report the difficulty with the numerous tax rates that are charged for different types of goods and services. There is a 12% sales tax on most goods but 15% on alcoholic drinks. There is a 16% sales tax on hotel rates and scooter rentals. Then there is the question of whether sales tax may be added to a bill -- the official receipt format has a place for 12% tax and 15% tax and a total, but we are told that food items from restaurants and grocery stores must include the tax in the price, while hotel and car rentals may add the tax afterwards. Cash registers and/or manual receipts must break down the included taxes resulting in one price on the item and another price on the receipt -- most registers are not programmable for multiple taxes, sometimes included in the sale price, sometimes added to the sale price, and the ability to accept multiple currencies.
Many business owners who immigrated legally to Roatan believe they are being targeted while Honduran businesses are skipped over. If every bodega on the island had to go through this audit, it is doubted many of them would still be in business. "There are so many regulations, everyone is in violation of something."