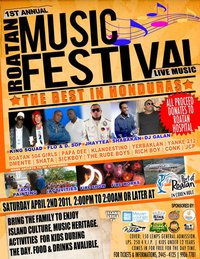 On Saturday, April 2nd, 2011 from 2 pm to 2 am, Roatan Hospital sponsors its First Annual Roatan Music Festival at the Port of Roatan in Coxen Hole. Featuring over a dozen Honduran entertainers, the event promises to be the largest music festival of its kind in Roatan. Besides dancing to the beats of King Squad, Jhaytea, and Shabakan, families can enjoy island culture, music heritage, and activities for kids during the day. All proceeds will go to the Roatan Hospital. Food, drinks, and various shows are scheduled day and night. Fireworks are scheduled for the evening.
Live music performances by: SHABAKAN | UNION ROCK | FLOW & D SOP | KING SQUAD | JHAYTEA | KLANDESTINOS | YANKEE 212 | SHATA | DMANETE | PAPA DEE | YERBA KLAN | SICKBOY | RUDE BOYZ | AND MORE
Tickets available at Plaza Mar, Action Rentals, Roatan Hospital, Mame Tree, 2445-4125/9906-7781
Entrance fee: 150 lempiras, General admission.
VIP fee: 250 lempiras
Children 12 and under admitted free during the day time