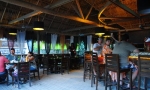 A Cochrane woman who in 2009 moved to a tiny island in Central America, is hoping her story of triumph and success will inspire other women.
Only a few years ago, Daphne Newman was working in the office at Bow Valley High School. Later, she joined a Calgary oil and gas company, but during that entire time, she said she was dreaming of a move that would allow her to pursue her dream of opening a restaurant on a warm sandy beach.
"I was travelling around a lot," she said. "I looked at Mexico and Costa Rica, and when I visited Honduras, I knew I was close but I wasn't there yet."
That changed when Newman discovered Roatan, the largest of Honduras' Bay Islands, only 60 kilometres long and eight kilometres wide.
"I really love the tropics," she said. "I love the water, the palm trees and there I love the people and the culture. I also got a sense it would be easy to adapt."
And adapt she certainly has. After renting a palapa – a thatched roofed, open sided structure - on the beach, Newman turned it into a 50-seat restaurant named Besos Restaurant and Lounge.
Besos, Spanish for kisses, says Newman represents everything she's passionate about.
"For example there wasn't a martini bar on the island before and that was a big problem for me," she chuckled.
Since opening her doors in January 2010, her restaurant has been met with rave reviews.
Dozens of customers who have visited Trip-advisor.com, a public on-line travel commentary site, gush that it's the best restaurant on the island, many of them citing Newman herself for her warmth and friendliness.
Calling the food on her menu international Carrib-fusion, Newman said wherever possible she uses locally grown fruit and vegetables combined with international flavours, to create dishes such as ahi tuna salad and prawn tagliatelle.
Though the local cuisine is traditionally quite bland, Newman has taught her small army of chefs not only how to prepare her creations, but how to taste, something that didn't necessarily come easily to them.
Newman makes sure she hires only locals, and that she makes eco-friendly shopping choices such as not buying endangered fish. She lives in a condo with a view of the ocean, and says she's never been happier.
"I had a few hurdles to overcome to get here," she said. "I really had to be by myself and look at my heart and my soul." Newman added she believes that the success of her restaurant is empowering for herself and for all women toying with the idea of a big change in their lives.
"We don't realize how rigid social patterning is," she said, adding she'd like to one day write a book that might empower other women to face their fears and follow their dreams.
"We worry about jobs and money, but if we can let just a little bit of that go, we can explore our world," she said.
sarah@cochranetimes.com